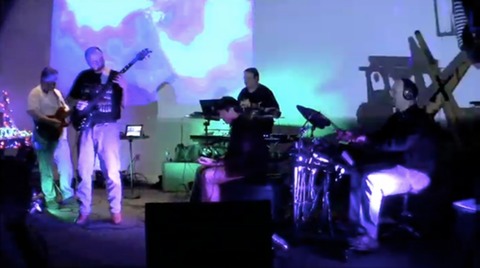 Next performance:

september 5, 2015: 
brainstatik is performing live at the 
The Event Horizon
music series at The Rotunda
in Philadelphia, PA
With special guest Michael Courter on guitar. Details here.
-

New videos to watch!

brainstatik at electro-music 2012
With special guest Kip Rosser on Theremin. Video shot and posted on Vimeo by Steve Mokris here.
-
brainstatik at the nj festival
of electronic arts 2011
with special guest Kyle Palmer on iPad. Watch all 3 parts here.
-

brainstatik at electro-music 2010
With special guest Dan McKay on guitar. Video shot and posted on Vimeo by Steve Mokris here. (Alternate angle here.)
-

brainstatik at pocono skies 2010
Just Ken and Glenn, with special guest Kip Rosser on Theremin.
Videos shot and posted on Vimeo by Steve Mokris: 
Part One,  Part Two, Part Three
-
New swag!
brainstatik t-shirts 
Our official band logo merchandise is now available here! Show your support for the music and help a recent graduate of art school (Ken's son Kyle, who designed the logo and setup the online t-shirt store). New designs added!
-
what is brainstatik?
New Jersey-based Brainstatik is best known for our mostly-improvised live concerts, where we perform long-form jams combining ambient, world, progressive rock, and space music, liberally shifting and mixing genres within each piece. 

Every song is a spontaneous exploration of diverse musical themes, with little thought or planning beforehand, so Brainstatik always sounds completely different each time we play. 

Brainstatik has been together for 20 years and performs smaller shows in galleries as a duo or trio, or in larger concerts with the current full lineup of four members. Everyone in Brainstatik is a certified electronic gear junkie, each choosing from a huge sonic palette from which to make sounds. 
Armed with this complex musical toybox, guitars can sound like drums, keyboards can make guitar sounds, and drums can play keyboards, which often can confound audience members (and sound engineers) who can't quite tell who's playing what part. 

Brainstatik's current lineup of multi-instrumentalists includes founding member Ken Palmer, along with Mike Hunter,  Glenn Robitaille, and Jim Silvestri. Click here to see who's played with the band in the past, and here for a little deeper Q and A with the band.

The music heard at our shows is always organic, with each piece constantly evolving and morphing into something new. Brainstatik can sound ethereal and quiet, complex and orchestral, or experimental and edgy. The resulting performances often sound rehearsed and composed, but we honestly have no explanation for where the musical muse will lead us at each live show. Most of it just happens at that moment of creation, almost beyond our control! 
The risk of a creative "train wreck" is always there, but the members of Brainstatik thrive on taking our music right to the edge every time we perform. We'd be quickly bored doing it any other way! Listen!