synthesizers. percussion, live sound and recording, lightin
g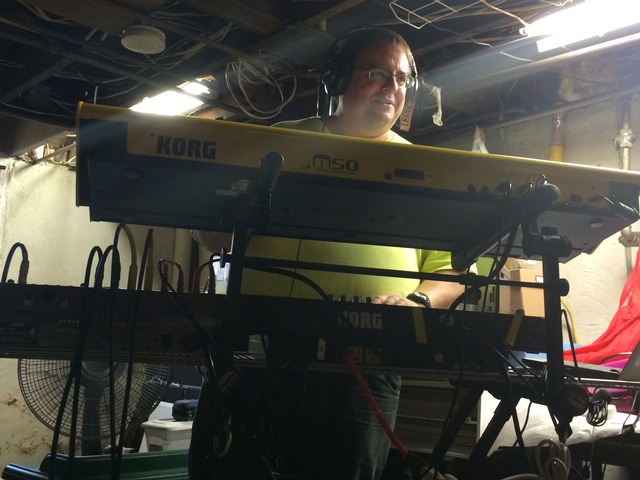 I've been playing keyboards for over 30 years, with KORG products being my favorites. For those of you who care, my current equipment includes a limited-edition YELLOW Korg M50 synth, a custom-painted (by me) yellow Novation SL25 MkII controller, an M-Audio ProKeys 88sx controller, a Korg MicroX synth, several nanoKey and nanoPad controllers and a MicroKEY controller, a wonderful Eventide H9 Harmonizer stereo effects units, and a Korg D888 8-track digital mixer/recorder (which I'm using at smaller gigs to mix and record the band live). A few Roland stereo volume pedals, M-Audio damper pedals, a Moog modulation pedal, and a rack-mount CyberPower UPS to keep the power coming clean and uninterrupted to the rig. My 2012 live gear setup was featured in Electronic Musician magazine's Dig My Rig page, which was really exciting for me to get some notice in print and online! It's probably as famous as I'll ever get, but at least a few friends thought it was cool! ;-)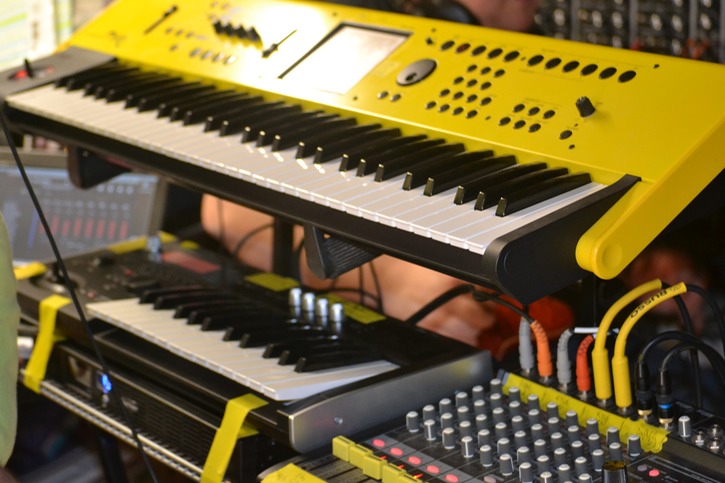 Also scattered around the studio are my beloved Korg Karma (with Karma MW software and Chemistry sound banks added), a Korg 707 (semi-retired, unless I revive it as a <gasp> "keytar"), two Korg X5s (love those sounds!), Alesis QSR module (with added Alesis Santuary QCard) run through an Alesis AirFX, Yamaha SU200 drum sampler, and Yamaha DD55 digital drums. Also hanging around are my beloved (and still currently broken) Korg Mono/Poly, a now-classic Roland MKS-70 module, old Akai S01 sampler, Korg DDD-1 drum machine, and an upgraded Kat TrapKat percussion controller that used to be MIDIed to an Alesis DMpro (until I sold it to Glenn for his Roland drum rig). 
I also play with acoustic instruments on occasion. I have a hammered dulcimer, a few hand drums, an interesting Japanese taishokoto, and a wonderful Washburn 12-string acoustic-electric guitar. I actually played guitar from 8th grade through college, until the synth bug bit me! I really have to build up those finger calluses again!
I just have to mention my first synth, a Univox MaxiKorg, purchased just after high school back in 1975 (which I regretted giving to my friend Ed in the 1980s, but recently he got it back to me!). Univox morphed into Korg, which started me down the path of favoring the Korg sound and feel over all others. Back in 1975, I passed on getting a Steiner-Parker Synthacon  - which was a lot more expensive at $1200 - instead of the Maxi-Korg (which I bought for $799). Now - 30 years later - used Synthacons (of which only 250 were made) are now selling for $12,000, while a MaxiKorg is worth MUCH less! Who knew then that there would ever be a lucrative market for vintage synths!
I've been running a lot of soft-synths and samplers lately on a new MacBook, especially on Native Instruments' Kore and Kontakt platforms. I've also got a "hackintoshed" Dell Mini 10v netbook running OS-X 10.6 Snow Leopard making synth sounds as well, which seems to attract more attention than anything else in my rig lately!
KEY MUSIC
I've been producing my own solo music under the moniker PYXL8R, which tends towards being more experimental and off-the-wall than what I create with Brainstatik. I've been exploring generative music software lately and, in February 2011, released an album based on those explorations, titled "Life Unsettling." You can preview/buy the physical CD at CDBaby directly from the widget at the bottom of this page, or download it it from Digstation or iTunes. I also have many tracks available for free download on my SoundCloud page. I also have been busy making videos to go with  some of these tracks. Much more music to come!
KEY INFLUENCES
My musical and artistic tastes/influences include Yes (a longtime fave), Gentle Giant, Peter Gabriel, King Crimson, Synergy (Larry Fast, (who I gave a bunch of Brainstatik CDs to in June, 2002), Kate Bush, Happy Rhodes (bonus points if you know who she is!), and a bunch of world music artists, especially of Celtic, African and Asian origin or influence, such as Afro Celt Sound System, . And just to throw a little subversiveness into the mix, I often listen to Tool, Gary Numan, Sigur Ros and Nine Inch Nails at work (with headphones of course). My design aesthetic was heavily influenced early in high school by Roger Dean and Frank Lloyd Wright. (I finally got to meet Roger at NEARFest in Trenton, NJ in June, 2002. The poster he signed will get a prominent spot on my studio wall.)
I previously played keyboards and guitar in the bands E. Echo-K and Liquid Idiot in the 1980s, which definitely influenced my approach to music composition, especially with my preference for improvisation and the use of non-traditional sounds.
KEY SOUNDS
In the good old days you could always tell where the synth sounds were coming from...the keyboardist, ME! But when you jam with electronic drummers, they can sound like me too...only faster. And Rob's ART guitar effects module and Roland guitar synth could crank out some pretty wild non-guitar sounds as well. Not that I'm complaining: I crank out more than my share of guitar licks and drum fills too! So when you're listening to our music, don't make any assumptions about who's making which sound-- you're probably wrong! This of course, drives occassional recording engineer (and brother) Wayne nuts sometimes!
Remember that Brainstatik music is ALWAYS recorded LIVE-- with no overdubs. So if you happen to hear a few sonic oddities sprinkled throughout, they just happened... good or bad, we don't always know WHY, but we live for those moments. So please, don't ever ask us how we did it... I ask myself that same question all the time, especially when we're trying to reproduce a song for a live show! If I only could only have remembered to write down those damn patch settings...
KEY TOY SUPPORTING GIG
I'm a graphic artist by profession... a longtime Apple Macintosh user and I was the Art Director of Bloomberg Japan magazine at Bloomberg L.P, for whom I worked from 1992 to 2010. Photographic and digital illustration, image scanning, manipulation and restoration, and book and magazine design are my specialities. Quark XPress has been replaced by Adobe InDesign, joining Adobe Photoshop as my primary tools of the trade.
KEY FREE-TIME ACTIVITIES
I was the founder and host of the Cosmic Coffeehouse (www.cosmiccoffeehouse.org), a bi-monthly event in that showcased unique local musicians. It's currently on hiatus, mostly due to the fact that my long commute to New York City severely cut into the time needed to devote to the planning of each show. Someday it WILL return... in the mean time, I at least get to use all the lighting gear I bought for the Cosmic Coffeehouse in Brainstatik live shows now!
I create my own digital fine art for fun and occasional profit-- the earliest of which was featured online at Boston's 911 Gallery, and some early pieces can still be found in SITO.org's art archives, originally posted way back to 1995! However, I'm waaaay behind the learning curve with this Web stuff (pretty obvious, huh?!), but gave up trying to learn it in my spare (ha!) time, so I settled on easy-to-use Karelia's Sandvox to finally update this site in September 2008 (It was originally designed using now-defunct Adobe GoLive). I guess it doesn't look so bad after all; our band site is now featured in Karelia's Sandvox Website Profile.
I also enjoy sci-fi (reading and watching), keeping up with the latest in science,technology, inventions, space, (as a member of the Planetary Society), alternative transportation, industrial, automotive and graphic design, font design, computers and Web cyberculture, toys (robots, aliens, spaceships) and off-beat/left-of-center films, art, music, events, local legends, televangelists and other kooks, and the local brew pub. Hey, I'm an artist-- we seek out our own kind!
By the way, you can always see what's new with me on Facebook.